Earlier this year, Principal Investigator's Dr Jamaluddin and her team at Hospital Sungai Buloh and Dr Mohammed and his team at Hospital Sultanah Bahiyah hosted meetings with Liz (CRASH-3 assistant trial manager), Haleema and Ian the Clinical Trials Unit directors to bring together collaborators, share experiences of trial organisation and to plan the future of the trial in Malaysia.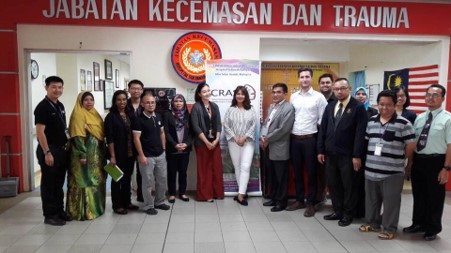 The team at Hospital Sultanah Bahiyah
The team at Hospital Sungai Buloh showed Liz how they organise the paperwork at their site. They created new folders dedicated to file Entry, Outcome, Consent, Original signed consent forms and Drug Accountability logs. Liz realised that there is a vast amount of paperwork used in the trial that cannot be contained in their Investigator folders and saw that there are always new ways we can help make the trial easier for our collaborators.
The team in London have prepared new site folders for the staff at Hospital Sultanah Bahiyah to help with their data collection. We encourage all teams to let us know if you require any additional stationary by sending a request by email to crash@lshtm.ac.uk.
We want to say thank you to the teams at Hospital Sungai Buloh and Hospital Sultanah Bahiyah for your hospitality and all the hard work you continue to put into the trial!